Our Mission Statement:
Our Church is a place of worship, evangelization, reconciliation, fellowship and support in time of need. She offers parishioners and visitors the opportunity to follow our Lord, Jesus Christ by the example of his mother, the Blessed Virgin Mary. As the hymn states, "ALL ARE WELCOME"
---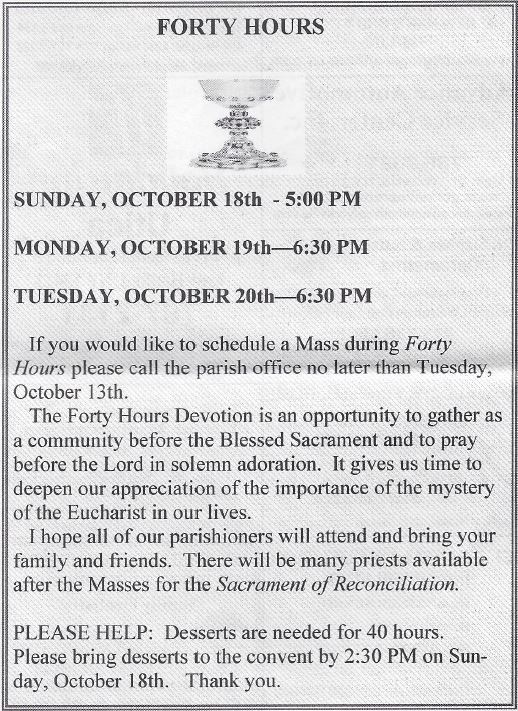 ---
Dinner to benefit HOPE HOUSE
October 24, 2015
5-7pm

Not too long ago, I was invited to join the Board of Directors for the Hope House. During one of our meetings, the idea was raised to have a fund raiser to support the Hope House which is running low on cash. I offered the Board of Directors the use of our school and have a Polish style sit-down dinner. Everybody was very happy about it and we decided to get the ball rolling. The Falling Leaves & Friendship dinner will take place on Saturday October 24th from 5-7pm.

We decided to honor the Utica Police Department for their professionalism and support of the Hope House. The dinner will feature an authentic Polish menu including pierogi, gołabki, kielbasa and sauerkraut. Wine and non-alcoholic beverages are included. Also, there will be entertainment. Tickets are $25.00 each or two (2) for $45.00. You can purchase them after Mass from Fr. Art, at the parish office or at the Hope House. The event is open to everyone who believes that feeding the hungry helps to build stronger and better community.

Let's make our Pope proud. Please invite your family and friends.

Number of tickets are limited and will NOT be sold at the door.

--Fr. Arthur
---
Please note the new email address for the church!!
akrawczenko@yahoo.com
---
Looking for religious items (rosaries, statues, etc. or some
beautiful Polish pottery?). Please stop in the Divine
Treasures Store located in the entrance way of the con-
vent. Open Monday—Friday during Parish Office hours.